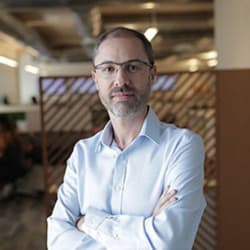 Ronen Assia
Co-founder & CPO
eToro
For the past 20 years, Ronen has been successfully merging technology and design together into useful and accessible products, defining interactive experiences across various devices and platforms. Prior to co-founding eToro in 2007, Ronen has designed products ranging from medical devices, household appliances as well as numerous desktop and web applications.
Ronen holds a BA in Industrial Design from Bezalel Academy of Art and Design, Jerusalem and an MA in Product Design from the Royal College of Art, London.
Today Ronen oversees the product and engineering departments for eToro.