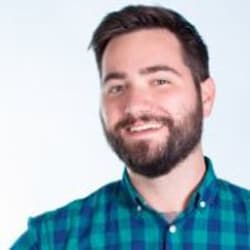 Izac Ross
Design Lead, Service & Interaction
Collective Health
Izac specialises in weaving together methods from interaction design, service management, business strategy and design research to solve problems that go beyond a single device, channel or medium. His mission: create the best possible experience for members of Collective Health.
Izac has a passion for working on complex problems in regulated industries. Prior to joining Collective Health, Izac held positions at Cooper, Moment Design and Philips Design. He has worked for a range of clients in healthcare, financial, and technology verticals including Philips Healthcare, Studio Dental, Memorial Sloan Kettering Cancer Center, Google, American Express, Morgan Stanley and Bloomberg.
Izac received a BFA in Service Design from Savannah College of Art and Design. When Izac is not designing Collective Health's member experience you will find him improvising in the kitchen, hunting for new music and biking around the city.
Past Talks
Business benefits of incorporating legal into design team from the beginning
User testing - having a better understanding of what route to take based on variables
Reducing the risk of fraud and waste
Improving app flow: Allowing users to contribute more data to provide a more accurate long-term experience
Integrating legal interpretation with common sense: Success to date