InnoGames is Germany's leading developer and publisher of mobile and online games. The company based in Hamburg is best known for Forge of Empires, Elvenar and Tribal Wars. InnoGames' complete portfolio encompasses seven live games and several mobile titles in production. Born as a hobby, InnoGames today has a team of 400 employees from more than 30 nations who share the passion of creating unique games that players across the globe enjoy for years.
Our goal is to offer our players games that provide both long lasting entertainment and continued satisfaction. We achieve this through our dedication to development, permanent system monitoring and excellent support done by a big and active team of moderators.
All of our games are free to play without restrictions and time limits. Players have the option to purchase premium accounts that offer additional advantages in the games. We strive to make sure that all players, regardless of standard or premium account, have the opportunity to experience optimal gaming gratification.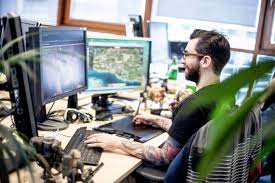 Useful Links
As a Senior Java Engineer, you will join our agile, cross-functional Corporate Systems team to advance the Development of our in-house systems: As part of our experienced team, you will have a major impact based on your interest in innovative software architecture and knowledge of object-oriented programming, preferably using Java.

Read More

As Senior PHP Developer for our PCI DSS certified Payment Systems, you will join our agile team in order to advance the development of our next-generation payment tools and contribute with your knowledge in software architecture. Together as a team, we are proud to run our payment software in a secure, fault tolerant environment and always strive for innovation in products and technologies.

Read More

For an unannounced game, we are looking for a Junior Game Designer who will help us create a compelling user journey by designing exciting content, levels and intriguing storylines. The ideal candidate will also design and document small game features. We offer you the chance to join our international cross-functional team and become part of our talented Game Design society at InnoGames! You will be responsible for designing unique game content as well as balancing game economy.

Read More

We are looking for a Junior 3D Artist to join our in-house art team focusing on our mobile- & browser game Elvenar: Create and implement essential 3D assets for the success of our game, bring your passion for & expertise in working on 3D art, and learn continuously by interacting with our experienced team of Artists & Game Development specialists.

Read More

Do you want to make your Master's studies more exciting and practical? Do you want to continue your studies after your Bachelor's degree and enter professional life at the same time? All that with a fixed monthly salary and full financing of your tuition fee? Then our InnoMaster with a start in the winter semester 2021 or the summer semester 2022 is just right for you.

Read More

As a Team Lead / Lead Developer, you will guide our agile, cross-functional, and international team of Developers. You will scale up the team during the next project steps and drive the technical development of new features/components. At the same time, you will focus on establishing a scalable & maintainable architecture/codebase while supporting each team member developing to the next level.

Read More

As a Full-Stack Software Engineer you will join our agile, cross-functional team to advance the development of our next-generation CRM tool and contribute with your interest in innovative software architecture and knowledge of object-oriented programming in Java. Together as a team, we are proud to early adopt new features and always strive for innovations in products and technologies.

Read More