Have you noticed that a lot of events are going online? Without making light of the serious situation posed by COVID-19 it has forced some changes in the conference production model that I believe are very positive - particularly from an accessibility and inclusiveness perspective.
Online events will be different from in-person events but one thing will remain the same - you get out what you put in. And online events, just like offline events, require input from you.
What you need to do
The key thing is to treat a virtual event in the same way as an in-person event. This largely comes down to your space and your mindset. Like working remotely, you need a suitable working location and the necessary motivation and self-control to focus appropriately. We have come up with a few simple prerequisites for joining our virtual events:
Get out of the office
It's too easy to get pulled into meetings / work - don't risk it. If you were going to an in-person event you wouldn't be in the office - this shouldn't be any different. Find somewhere where you can sit that will let you focus on the event and also lets you interact with others.
Be ready to show your face
You wouldn't turn up to an in-person event with a mask on so why do it with an online event. There really is nothing worse than talking to a blank screen - so make sure you are able to share your video.
Get ready to talk
This isn't a webinar - you will be getting involved - regularly. And since you will be talking regularly, it is really important that you have chosen a space where you can talk freely - you don't want your colleagues overhearing your introductory small talk :)
Don't try to multi-task
Like working remotely you need self-control. There won't be someone looking over your shoulder to force you to get involved but you will get out of it what you put in.
Have your LinkedIn url ready to share
-Copy your LinkedIn profile so that you can share it easily with others. There will be lots of opportunity to connect with people during the event - make sure you connect so that you can continue the conversations. Who knows where you next job or business idea will come from?
Bring an adventurous spirit
-You will get out of the online conferences as much as you put in (have I said that enough?). If you come with an open mind and a willingness to get involved you will get so much more out of the events. There will be "rooms" for you to enter to share discussions with others at the event
Technical Requirements
There are lots of tools out there for hosting events so each event will likely have different requirements. The ones we have chosen for our events are Zoom and Google Meet. You don't want to miss out on the start of an event or an interesting conversation so you should test the tools ahead of time.

Zoom requires a desktop client so you need to ensure that you have that installed ahead of time: https://support.zoom.us/hc/en-us/articles/201362033-Getting-Started-on-Windows-and-Mac

Google Meet is a bit easier as it is just a website, but because you need to provide access to your microphone and video problems can occur. Go to the Meet Homepage, Click Start a new meeting and then Click Allow to let your browser access your microphone and video.
I'm really excited because I think we have accelerated the move to online events by a few years. I don't think that online events will replace in-person events but I think they can offer similar value and even more in some areas.
See you online soon.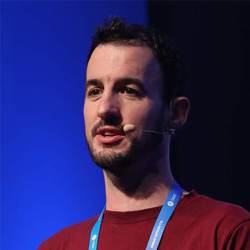 I hate "It depends"! Organisations are complex but I believe that if you resort to it depends it means that you haven't explained it properly or you don't understand it. Having run UXDX for over 6 years I am using the knowledge from hundreds of case studies to create the UXDX model - an opinionated, principle-driven model that will help organisations change their ways of working without "It depends".
Get latest articles straight to your inbox
A weekly list of the latest news across Product, UX, Design and Dev.